Timber Frame Builder

Leighton Buzzard
Do you have a project that requires a timber frame builder to assist with project management? Alexander Project Management is the leading timber frame construction experts in Leighton Buzzard and the surrounding areas of Bedfordshire.
We have over 30 years of experience in this industry. We specialise in all types of timber builds, from small extensions to an entirely new home. We understand how a building project can have time restraints, that is why we ensure all our work meets those deadlines.
You can count on Alexander Project Management in the provision of bespoke, precise and engineered timber frames. Timber frames are much stronger and more durable than other building materials.

What is timber frame construction?
Timber frames were once traditionally used to construct housing in the UK. In medieval times, it was the most common method of construction. However, this changed with the discovery of new construction methods during the 17th century.
Now, people have rediscovered the beauty of using them, and it is now among the fastest-growing method of construction in the UK. Are you planning to build a new house or an extension using timber frames?
TIMBER FRAME CONSTRUCTION SPECIALISTS
We are experts in designing and manufacturing timber frames.
We undertake building project management throughout the Bedfordshire. Our central location in Leighton Buzzard also allows us to extend our service to the East Midlands and London. Using our timber frame technology, you can be sure your project is in experienced hands.

Flexible:
You can use timber frames for any construction project. Their endless design possibilities and ease of construction make them ideal if you are looking forward to a stress-free construction process.
Efficient Insulation:
Timber boasts of natural insulating properties. It has tiny air pockets which help in regulating the amount of energy needed to cool or heat space- resulting in savings on energy. Their low thermal mass allows the areas enclosed by timber frames to heat up quicker than masonry constructions.
Versatility:
We can construct your house or structure at any time of the year regardless of the season. Timber frames are made off-site before being erected in situ. It makes it almost impossible for weather changes to interfere with the construction process.
Speed:
We can pre-cut, modulate and build to precision, making your building quicker to construct in comparison to stone buildings. Building with timber also leaves you less debris to clear on completion of all construction works. We reduce waste because of our efficient controlled manufacturing processes.
Cost-effective:
Constructing using frames requires more straightforward tools and uses lesser specialised skills making it more economical. Additionally, the fact that it is quicker to build than the construction of brick also saves you both time and money.
Environmentally-friendly:
Wood is a renewable natural resource. It is known to be non-toxic to the environment; they do not leak harmful gases into the atmosphere. Timber also contributes to sustainable construction because it can often be reclaimed.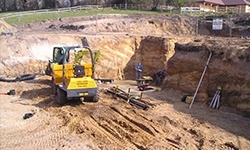 If you would like to discuss your timber frame project with our highly experienced team, call today on 01525 240679 or 07850 201525. We will be happy to provide you with all the information and advice you need.