Timber Frame Construction Project Management
Alexander Project Management are your first choice for project management services in the South of England. We are specialists in Timber Frame Construction with over 30 years of experience in the construction industry.
Our chartered civil engineer is experienced with all aspects of residential construction throughout Buckinghamshire, Bedfordshire and south England.
We are here to help manage your budget and your contractors. We will make you aware of building costs for your building project.
Our construction management will help you meet deadlines and deal with local authorities.
If you would like more information about our services, or if you would like to discuss how we can assist in your project, please simply get in touch via 01525 240679 or visit our Contact Page to forward your enquiry.
Home extensions
New builds
Self build projects
Contractor management
Ensuring work meets deadlines

Keeping building costs to budget
Liaise between contractors and clients
Liaise between local authorities and client
SKILLS OF AN INDEPENDENT PROJECT MANAGER
Qualifying as an independent project manager is considered an achievement in project management. Their skills and experience are much sought after by clients to ensure smooth and efficient progress of their projects.
A construction project manager organises and overlooks various processes in a project. They ensure the project runs within the stipulated time and allocated budget. They are vital during the planning process as they assist a client in aspects such as choosing a suitable architect and contractor.
Project managers also deal directly with both the client and staff. They are responsible for hiring and managing the required personnel; hire qualified contractors and suppliers to ensure the project runs smoothly.

TIMBERFRAME CONSTRUCTION UK
Timber frames have traditionally been used to construct housing in the UK. In the medieval times, it was the most common method of construction. However, this changed with the discovery of new construction methods during the 17th century.
Now, people have rediscovered the beauty of using them, and it is now among the fastest growing method of construction in the UK. Are you planning to build a new house or an extension using timber frames? You can count on Alexander Project Management in the provision of bespoke, precise and engineered timber frames.
Flexible: Timber frames can be used for any construction project. Their endless design possibilities and ease of construction make them ideal if you are looking forward to a stress-free construction process.
Efficient Insulation: Timber boasts of natural insulating properties. It has tiny air pockets which help in regulating the amount of energy needed to cool or heat up space- resulting in savings on energy.
Versatility: We can construct your house or structure at any time of the year regardless of the season. Timber frames are manufactured off site before being erected in situ. This makes it almost impossible for weather changes to interfere with the construction process.
Speed: We can pre-cut, modulate and build to precision making your building quicker to construct in comparison to stone buildings. Building with timber also leaves you lesser debris to clean after all construction works are done.
Cost-effective: Constructing using frames requires simpler tools and uses lesser specialised skills making it more economical. Additionally, the fact that it is quicker to build also saves you both time and money.
Environmentally-friendly: Wood is a renewable natural resource. It is known to be non-toxic to the environment; they do not leak harmful gases into the atmosphere. Timber also contributes to sustainable construction as they can often be reclaimed.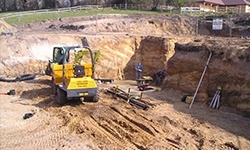 TIMBER FRAME CONSTRUCTION SPECIALISTS
We are experts in designing and manufacturing timber frames.
Our in-depth knowledge gathered from 30+ years of working with sectors such as student accommodations, private and affordable housing, education, self-build and care homes will enable you to build an efficient, high quality and desirable home at an impressive time frame. Our manufactured timber frames are an excellent example of an affordable yet energy-efficient construction method.
We undertake building project management throughout the Bedfordshire. Our central location in Leighton Buzzard also allows us to extend our service to the East Midlands and London.

Commercial and domestic projects are undertaken on a fee basis that is variable, dependant on the nature of the individual project. Our brief is clearly defined at the outset, along with our fee and the terms of payment for that fee.
Alexander Project Management
Heathpark House
Maltings Close
Stewkley
Leighton Buzzard
Bedfordshire
LU7 0UN
CALL US
E-MAIL